On behalf of the staff at Lincoln City Animal Clinic, we are honored to pay respect to our beloved animal friends who have passed. We also welcome you to create a lasting tribute for your beloved pet or animal friend on our website's Pet Memorial page. Please feel free to complete the following Pet Memorial Form in Adobe Acrobat format, which requires the free Acrobat Reader to view.
Download & Print Questionnaire
---
Raphie Maximillan Salazar de Grider
Ralphie Maximillan Salazar de Grider came into our lives 14 years ago. He singlepawedly saved us from ourselves at a time when loss was the tone of the day. He was the runt of the litter, weighing only 1 pound and 2 ounces at age 9 weeks. The last one chosen, he filled our hearts and souls to the limit with his sweet, wonderful personality. He loved people, cats and running on the beach. Ralphie had many human friends and especially enjoyed attending "his meeting" on Wednesday nights at the Cultural Center, where he roamed the room greeting everyone and exploring, finally settling down at his Mama's feet on his blankie. The staff and doctors at Lincoln City Animal Clinic were among his closest friends, with Sally being his favorite. Ralphie would bark at the very mention of her name and look around excitedly for her. Thank you to all of you for your wonderful care and loving attention given to him. Thank you to Dr. Kriss for saving him when he was so little and for sending him on his way across the Rainbow Bridge. Ralphie was blessed by several priests and pastors and seemed to understand that he had a special mission on this earth. He had a full wardrobe of sweaters, jackets, boots, hats and holiday costumes. He didn't mind wearing them and actually helped his Mama put the clothes on. Ralphie is survived by his two children, Ralphie Jr. and Lita Grider. His companion and mother of his children, Ava, predeceased him in 2010, five days after giving birth to a litter of 4, two of whom did not survive. Ralphie is now with Ava and his other two kids. He passed very peacefully, lovingly held, cuddled and kissed by his Mama and Dad. To his many friends, thank you for treating Ralphie with love and caring and for supporting his parents on his passing. Ralphie will never be forgotten and holds a very special place in everyone's hearts. Rest in Peace our little Angel. We will see you again.
---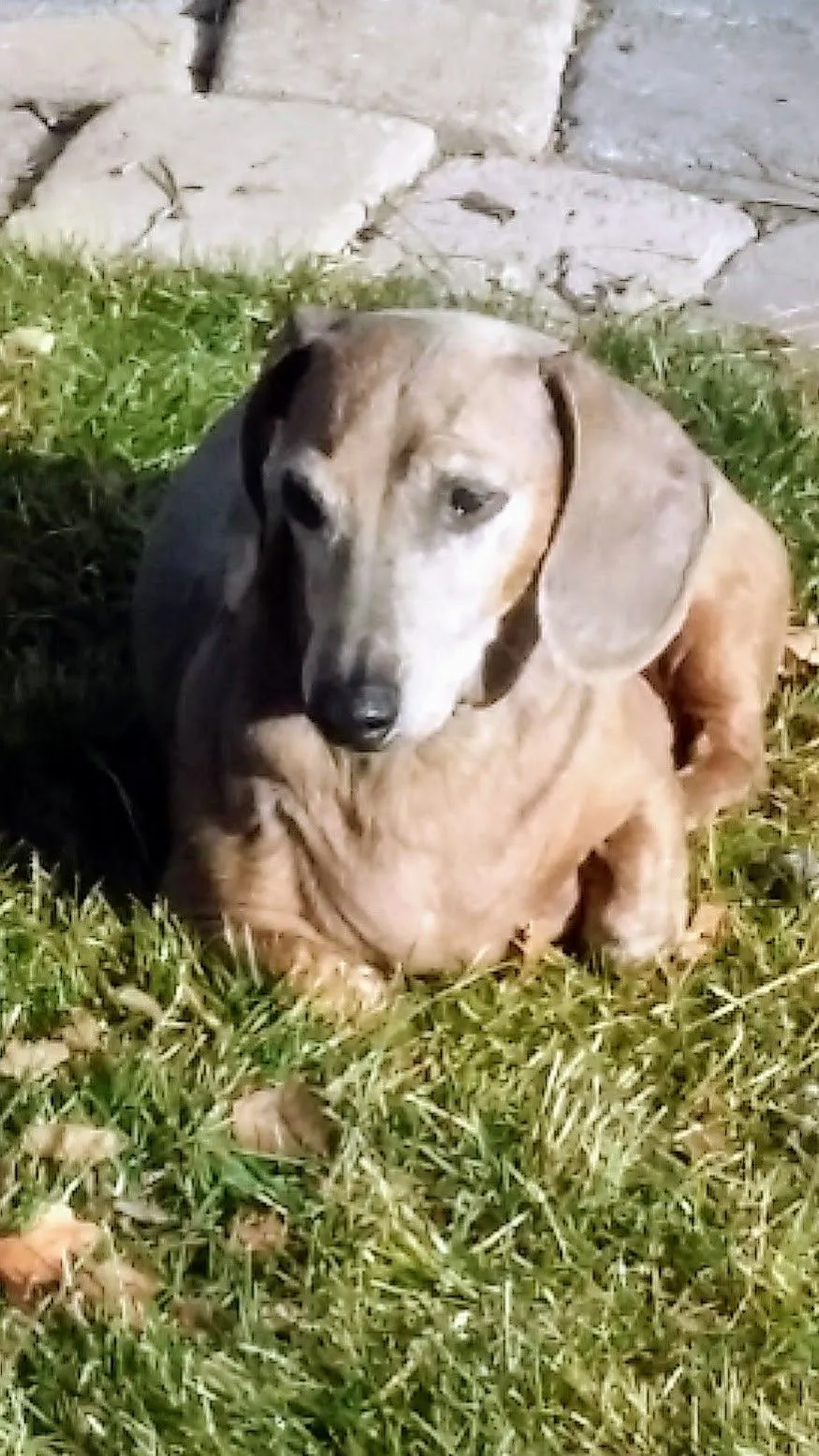 Chance Hall
DOB: 11-15-2005 Date of Passing: 02-10-2022
Chance came into our lives via my son. A little boy, who at 2 years of age, started asking could he have a dog. After a number of years, I granted him that wish and he chose a puppy. A mini dachsy he named Chance. Chance lived 16 good years and will live in our hearts forever.
Chance was a tiny puppy when we welcomed him into our home. He rode around in my vest for the first few weeks of his life with us, as it was a cold winter when he arrived. From that point on I think he became very attached to me, much to my son's disappointment. Chance spread the love and gave each member of our family his beautiful heart and shared his hilarious sense of humor with us too. He often smiled as he greeted us at the door, coming coyly toward us with the top lip curled up and his little tail pumping like crazy, so happy to see us. We were pretty sure he could say "hello" too!
As I have learned, most dachsys have this special aura about them - they do special things. Some communicate in special ways, some smile and play funny tricks, but they certainly do have a unique kind of dog-ness to them. Meet a dachsy owner and theyll tell you all about their unique little dog. And that was true about Chance too. He loved to be in the middle of everything. Whenever my husband and I might hug or kiss, he wanted in too!
He would stand in between us, look up and bark - not satisfied until we held him and kissed him too. Chance and I became inseparable. He was my little shadow. And it is so hard to go about life without him. He died up here on the Oregon coast when we were visiting in February. I didnt know he was going to die, but I am so grateful for Dr Shana and the staff. They showed Chance and I a lot of love and I was given much grace during a time I will always remember, my last days with Chancey.
I often 'hear' him barking for me, and was awoken by that bark a few weeks ago. I feel him still with me and wonder if he is. I met two lovely people at the Neskowin market recently and they talked long about their beautiful dog, Ralph. He was a special guy too, by the stories they tell me. It was the words that they said, "Dachshunds are the smartest dogs in the dog world. They know how to choose good owners. Chance would'nt want you to be sad, he would want you to love another dachsy." that has me wondering when might be the right time to start loving another special little dachsy. For now, I'm content to hold Chancey in my heart. One day there might be room for another one. So if you ever hear of one that needs a new human, give me a call. Chancey, Ill always remember you. Thanks for all the love my Little.
---